So yeah, we've now been home long enough to get back into the swing of life so I thought I'd put up some pictures. Actually a couple of weeks ago we both came down with some sort of serious illness that put us out of commission for a few days, but now we're back and better than ever. OK, we might not be better than ever, but at least we've recovered.
Anyway, rather than posting pictures of us hunched over spreadsheets and language tables, I thought I'd put up some pictures of our Saturday. The weather here is still nice, so we're trying to get in our last adventures outside before the cold sets in. To that end, we took the boys outside to play football, then on the playground, and capped it off by going for dinner at the cafeteria downtown.
Whenever we go to this cafeteria we always split a chocolate ice cream sundae, which is sort of a reward for the boys if they've been obedient that day. They had, so we all enjoyed the ice cream.
Other than that, the boys are back in kindergarten. However, in order to keep them up to date with their English-language studies, we made a decision to keep each of them home one day per week (that is to say, Steven stays home on Tuesdays and Matthew on Wednesdays). Bobbie does homeschooling with them to make sure they know the English alphabet as well as the Russian one and things like that.
Steven's doing well in his reading, and he wanted to make a video for his grandparents to see, so here it is:
But all of that is not the biggest news we have, really. I guess all of you know that our goal here is to help the local people in any way possible, and we've been doing that on a small scale as we looked for a way to take it bigger in the most effective way we could.
Originally we had thought that starting with relief projects was the way to go, and that we would look at economic development in the future. However, due to a variety of reasons we've decided to look in that direction a little earlier. As we started to examine how we could really boost the local economy, one opportunity that stood out was starting a business to process locally-produced pine nuts.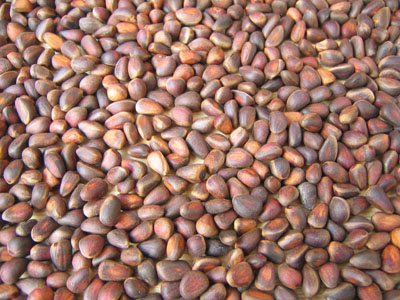 Once you get them out of the pine cones, this is what the nuts look like in their shell
So, in short, that's what's happening. Together with a business partner, we're opening a firm that will process and sell pine nuts. Hopefully, you already love pine nuts, but if you don't - what's wrong with you? They're yummy and healthy. Recent studies even indicate that they act as an appetite suppressant, and there can't be that many things in the world that are healthy AND delicious. The one downside is, of course, that they're expensive, at least in the West. Here in T-land, though, you can just go into the woods and pick the cones off the ground.
Once they're shelled and packaged, this is what they look like on your grocery shelf
That's the plan, basically. Buy the nuts off the people who pick them, then process them (shelling, peeling, packing) and sell them. So, to that end, we've been doing lots of research and writing a business plan. Once we've secured financing, we hope to start shipping the nuts next fall, so if you know anyone who needs pine nuts have them get in touch with us! ;-) Minimum order 1 ton, so hopefully they need a LOT of nuts.
Shelling nuts by hand to determine what percentage of the weight is shells and what percentage is kernels
That's about it, really. It should be enough for you, no? Thanks, as always, for thinking about us. Questions, offers to help out in some way (does anyone know graphic design/website design and want to volunteer your services? or, even better, does anyone know anyone looking for a business to invest in?), whatever, they're all welcome.