I LOVE to have people over! I love to socialize and to cook - it's one of my passions. It's been a way to form relationships here, so there are other benefits as well.
Yet, being in a different culture has presented some challenges in my quest for showing hospitality. Once you live in a different culture for 5 years you would think the challenges of accepting certain parts of the culture would be easier. At least that is what I thought until last week.
Let me start of by saying that T-land is my home. I love it here. The people think differently and interact differently, and their whole view on what is socially acceptable and what's not are completely different than what you would find in the West, but I'm OK with that for the most part.
However, last week I was struck by the realization that I still struggle with parts of the culture here. Let me give you an example: our neighbors have become one of our best local friends in the past 4 years living here. We call each other sister and brother (a sign you have been adopted into the family). They are at our house at least 2-3 evenings a week. Last week while Jesse was gone they came over to keep me company. We played games, talked, and ate. They also brought their 8 month old grandson over with them.
Here are some things that happened that caused me to have to restrain my reaction (which was surprise and shock). One evening we sat down to eat some boiling hot soup (I make sure it was hot since they don't like things unless they are boiling hot). As we are eating they were taking small (boiling hot) bits of food out of their soup (like pork, potatoes, and cheese) and putting it in the baby's mouth. My brain is saying "No, it's too hot, don't. He can't chew and swallow, he'll choke."
Now I know how the kids here can tolerate boiling hot tea without blinking (tea that would burn my mouth if I tried to drink it). I didn't react too much but I did offer to puree everything into baby food for them which they accepted. The baby ate most of what I made so I guess he liked it. Of course, his tummy wasn't used to so much solid food at once so it was, hmm, how shall we say, "rejected," and it came flying out over the couch and pillows.
Blog Manager: I'm putting this up instead of one of the many pictures of babies vomiting available on google images, so you should definitely be thankful it's only this tasteless!
Babies do this so it didn't bother me one bit. At least not until our guests just started wiping the pillow and couch off with their sleeves! After they got most of it they rolled their sleeves up and continued talking and playing. I went to get a moist rag to complete the cleanup and they said "Oh, it's OK, we got it". So, as not to offend them, I left it there until they left. By then, the throw up had transferred to every chair in the room and some on the floor. Thankfully, dirtiness does not bother me as much as most Westereners so I was able to hide my reactions.
The other thing that I just had to laugh at was what my friend did. She loves sweets - and in saying that I mean that she would eat pure sugar all the time if she could. How do I know this? Because she chugged my maple syrup!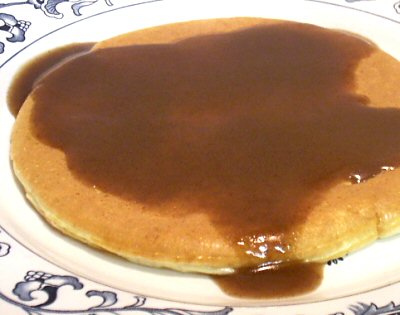 A highly under-syrupped pancake, according to our friend S
I offered her some pancakes I made and brought out my maple syrup for her to try since they don't have anything like that here. She started by putting a little on the pancake. A little syrup turned into a lot of syrup. Finally, after absolutely drowning the pancake she pushed it away, took my syrup bottle, and started drinking it out of the bottle.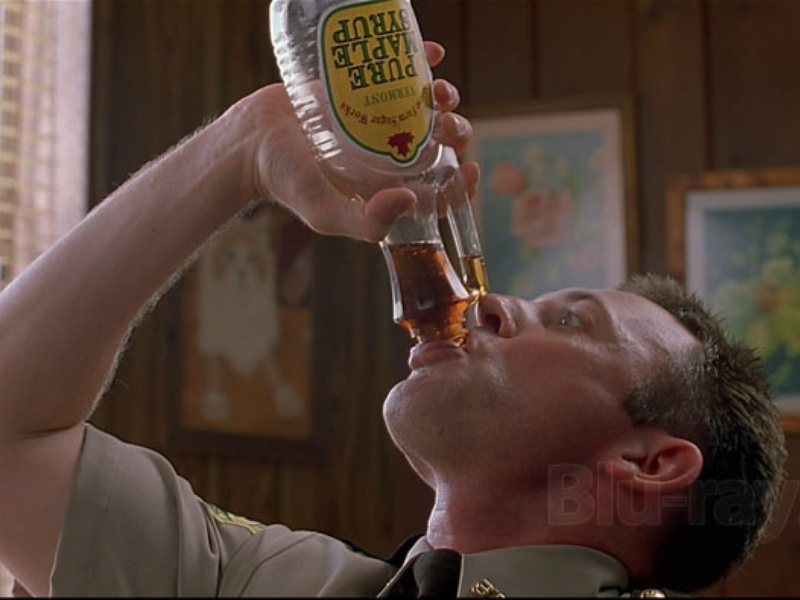 Mouth agape, I just started laughing which startled her because to her this was an accepted practice. Once I regained my composure a bit, I explained that was the first time I've seen that done and she was shocked and told me that it's the way they do things here. So, I waited until she left, emptied the bottle, cleaned it, and made some more. (I confess that I hid it away.)
Google tells me the above picture is from a movie, but I've never seen it so here's a clip from a much better (probably) movie. I would put money on our friend actually enjoying spaghetti with syrup in it.
It didn't stop there. Now, remember, they can't afford disposable diapers so they just put leggings on the baby and train them from the time they are 2 months old. How do they "train" them? By pulling their leggings down every hour and holding them in a squat position until they urinate or poop. Since their traditional yurts all have outhouses they don't want to hold the baby over the hole in the out house.
So, what is the next best thing to them? The floor. That's right - they would just pull down the baby's leggings and let him go right on our floor! I had 3 puddles of urine and 1 pile of poop on my floor. I finally got a towel and tried to discreetly give it to them which they took and started using. I've seen this done at other houses but this was the first time anyone has done it at our house. I just did a lot of cleaning after they left.
Why would you go to all this trouble?
Does all of this mean the people here are worse just because they do things differently (and, granted, dirtier) than Westerners? Absolutely not! Remember, they have had to adopt to a hard life in yurts, sheep herding, all in -50 weather, and the system that the T people have developed has served them for a long time. It's just interesting to watch them try to adapt some of the old ways to a modern environment, and it does take some getting used to.